September #BuJo Inspo
Confession time: I have serious #BuJoLove
I was just introduced to Bullet Journaling a couple of months ago and I started dabbling a little in July. August was my first full month of really using it in my life and biz and I'm OBSESSED!
For the first time in my life I have a planner that works for my whole [unique] life. It is custom made - it has everything I need and nothing I don't and best of all it's helping me to accomplish my goals!
So this month I wanted to share my BuJo layouts with you . I hope it inspires you to start your own too!
So I am not super artistic - but if you are go for it in your BuJo! I'm kinda minimalist, more functional and I enjoy color but at this point I'm more focused on getting my BuJo working for me on a practical level rather than an artistic one. But that's me - the best thing about bullet journaling is the individuality and honest self expression. So in yours 'you do you babe'!
One thing I always stick to is a color scheme that I never change. I use specific colors when I look at information I know what category it falls into. Pink is Personal - Green is doTERRA or TWL - Orange is our real estate biz. I continue this color scheme throughout all of my planning every month so I can easily see what is what.
Some people create a monthly calendar in their BuJo - I don't because I have 2 businesses, 2 kids still at home, and a household to run so I still use some digital tools to manage it all. I like to use my BuJo for the top priorities for my day instead of the whole enchilada of my life. My BuJo manages my personal to-do list, my daily activities and the goals I want to incorporate into my life.
I do use the Month Log though [left side] - here I lay out everything that is in my digital calendar at the top of the month. Things can change but here at a glance I see (and write down) everything that I have coming up in the month. This helps me to remember things like birthdays, weddings, etc. are coming up. This page is created on the back side of my artistic face page.
Across from that [right side] I have the Goal Page for the month. Here I start and develop my monthly goals for my businesses and personal goals.
Next is my Brain Dump Page. Long gone are scraps of paper, post-it-notes and anything else I used to write ideas on and it's always with me so whenever I have a great idea I can jot it right down! The lines on the side are for color coding by topic so that when I'm scanning it I can easily sort through it to go directly to what I'm looking for. LOVE this page!!!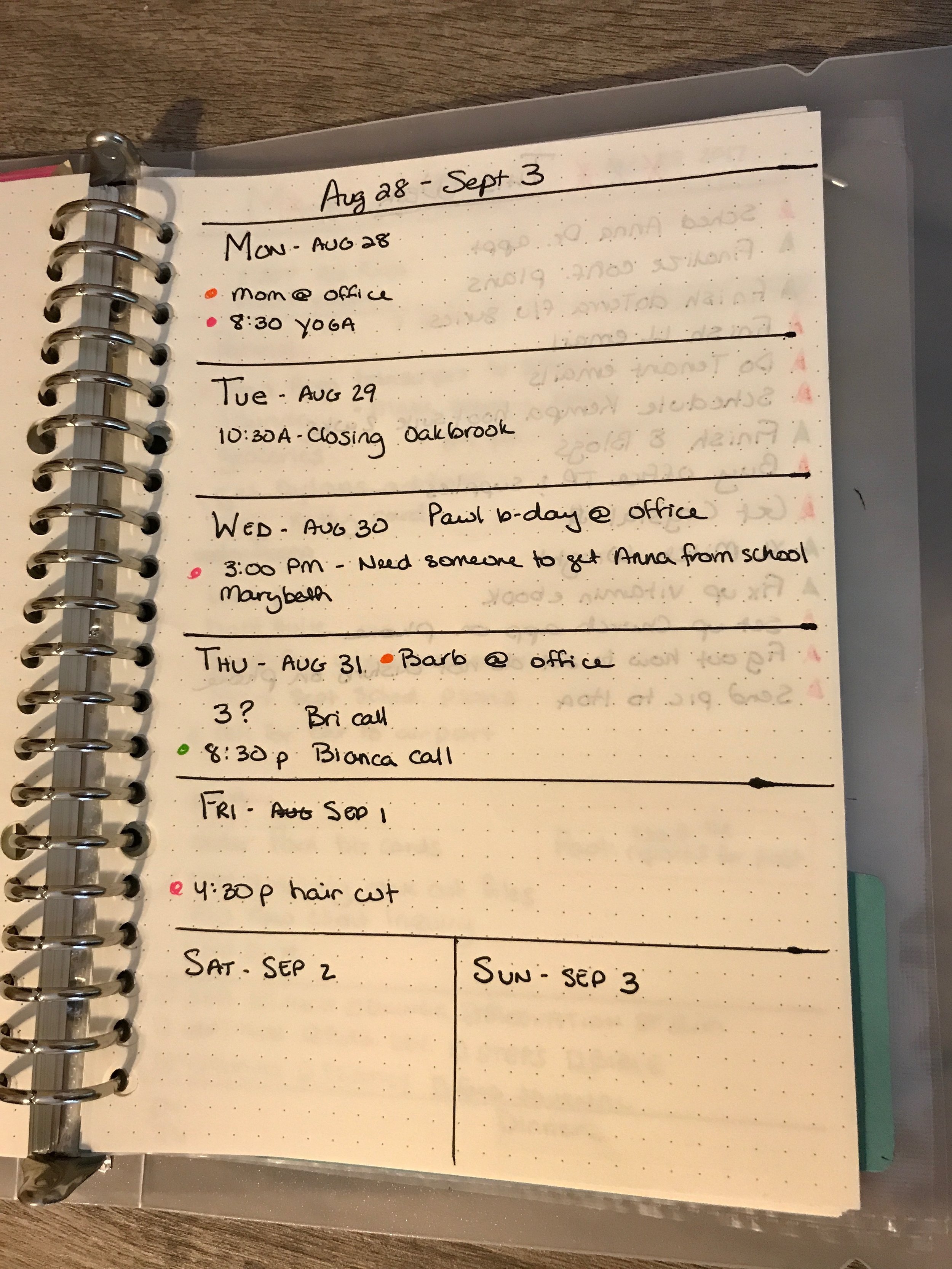 I do love the week at a glance page though. Filling this out ensures that I look at all of my digital resources and combine the appointments I have set, birthdays, etc. into one page for the week. It forces me to do a weekly preview so I know where I'm going and what I'm doing for the week - and hopefully remember it all!
There is not a lot of decoration on this page but it is color coded with my colors to make seeing what category appointments fall into easier. This is a functional page and I like it uncluttered so I can find what I need easily.
On the back side of my Weekly Layout I have a special page that is titled This Week. It is all the things I want to accomplish this week. I refer to this list every day as I plan my daily tasks. It too is color coded for quick mental sorting.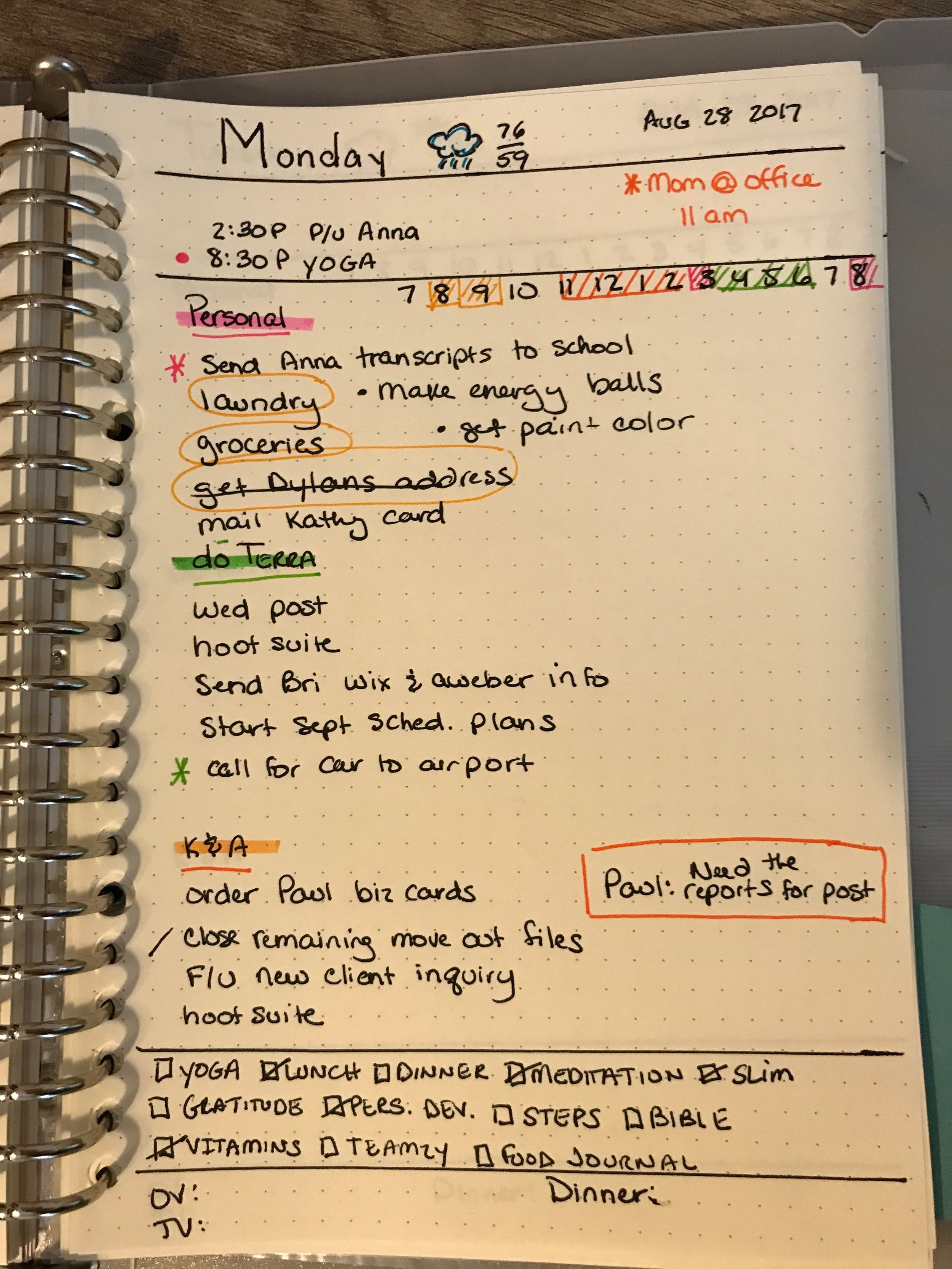 Next is my daily layout. I create the weeks pages on Sunday night and fill in everything from my weekly layout. I plan each days tasks the night before, but I do have all the pages completed so that I can add appointments or rescheduled meetings as they come up during the week.
I like to add the weather to my BuJo - not only does it add color but it creates a history I really enjoy when I go back and review.
This page is broken down with appointments listed and color coded at the top. On the right side I write anything noteworthy happening that may not necessarily be an appointment for me.
I also have a timeline listed on this one - I will be extending this a bit from 7a to 11p I use this to show me how much time I have booked during the day for different things. It's a form of time blocking that I really like a lot!
Next is my to-do list broken into blocks for personal, and my two businesses. On the right I have an orange box with a note I highlighted for importance - it's something I needed from my husband that day.
Below that I have my habit tracker. These are the things I'm working on incorporating into my day with regularity.
Finally at the bottom I track my daily sales volume and write what I will be making for dinner to help me remember.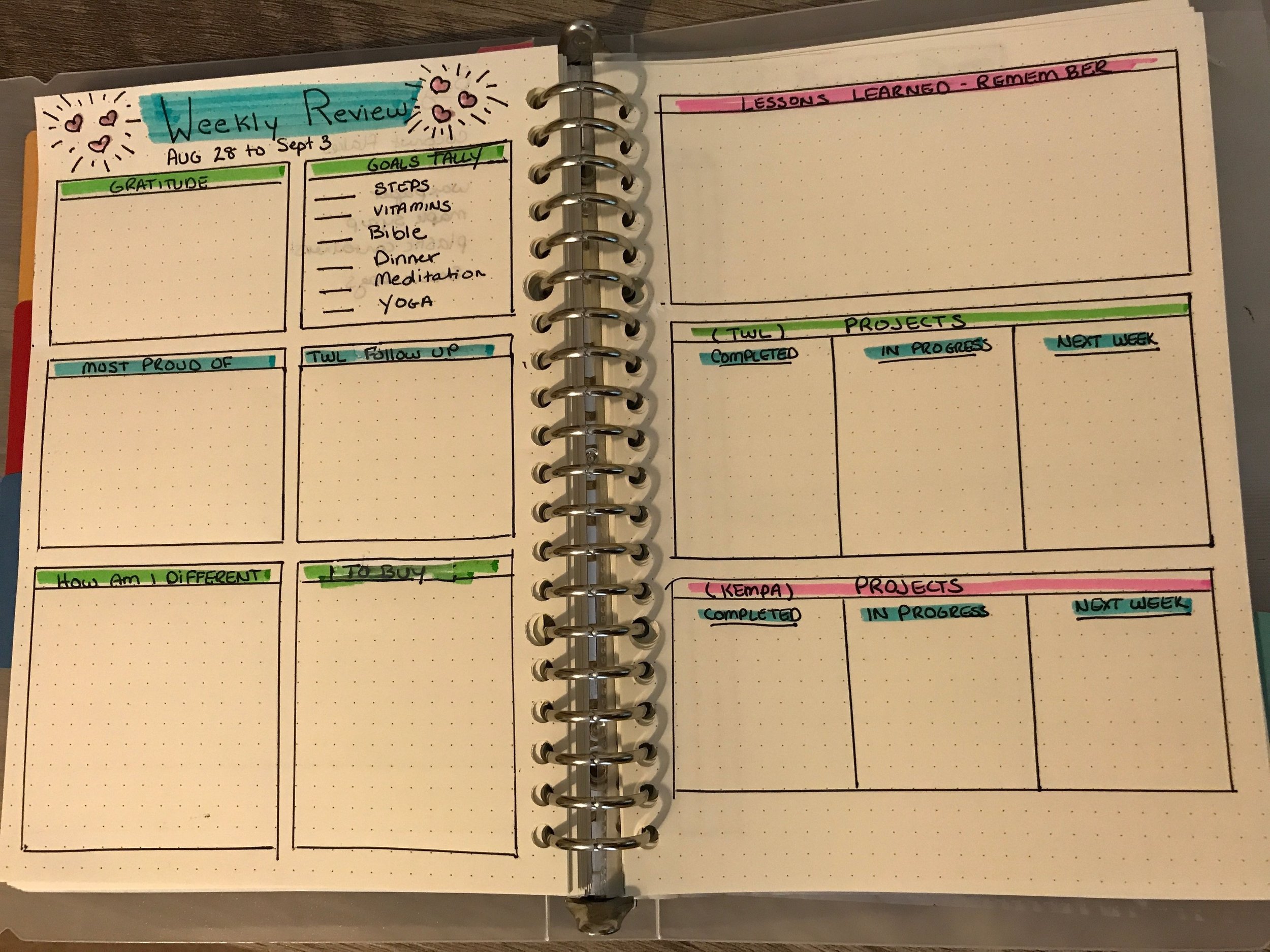 This month I added a new page for Weekly Review. Last month I did a monthly review with some of these categories and LOVED it! This is great for making sure you don't blow from week to week without ever stopping to reflect.
I changed the review categories up a bit for September making it correlate more with my habit tracker. I really like this reflection page and will use it to fill in the month end review at the end of the month. This creates a really nice record to review for a years progress.
Well that's it for now ...
If you love to BuJo share with me how you use yours! For even more inspo I've created Pinterest board where I'm collecting ideas I love. Check it out here and share yours with me - I'll happily follow!
Here's to a productive month!